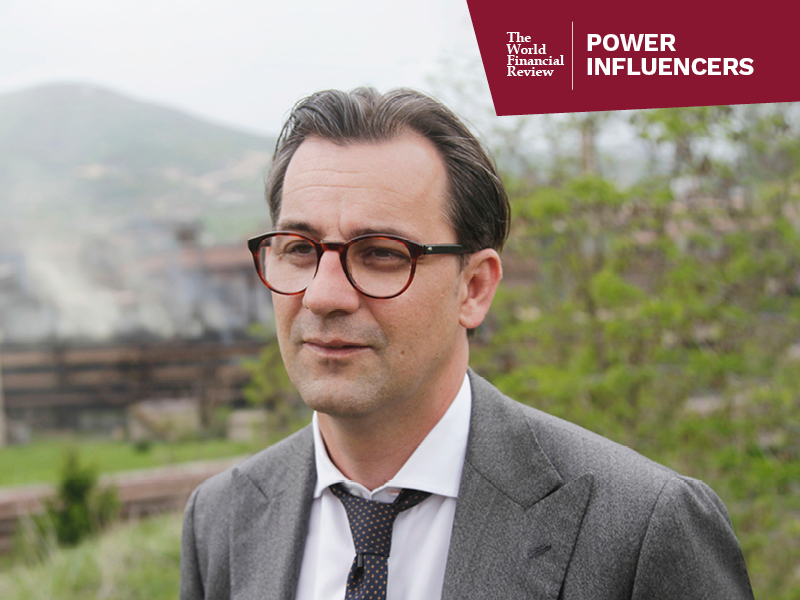 Interview with Sasja Beslik, Chief Investment Officer at SDG Impact Japan
Evaluation of a company's performance in the sphere of ESG is particularly complicated when it comes to those operating in the finance industry. As Sasja Beslik of SDG Impact Japan explains, what's needed is a framework on which to base assessments, so that investors have a clear view of exactly what they are investing in.
Sasja Beslik is a prominent figure and a pioneer known for promoting financial sustainability across the world. He left his role (after only six months) as head of sustainability at Danish pension fund PFA to join Japanese sustainable finance platform SDG Impact Japan (SIJ).
Sasja, who left his role as head of sustainable business development at Bank J. Safra Sarasin in September to join PFA, previously held a number of senior sustainability roles, including head of sustainable finance at Nordea Wealth Management, and head of stewardship and engagement at ABN Amro. 
Sasja Beslik is the co-author of Where the Money Tree Grows (2021), and the author of the weekly newsletter "ESG on a Sunday".
It's a pleasure to speak with you again, Mr Beslik! Can we start this off by asking what ESG means to you personally, and then also within the context of SDG Impact Japan?
Environmental, social, and governance issues (ESG) is an additive to fundamental financial theory on how to evaluate companies. For me personally, it is an evolution of the existing financial system, in the way that you assess companies not only on the basis of financial returns and financial figures, but you actually assess companies on the basis of additional financial figures, which are related to how these companies manage ESG issues which are relevant for their business. For me, ESG is an evolutionary approach to financial investments.
Making the transition from Danish pensions to Japanese SMEs is an interesting career choice. What made you pursue an active role in this industry?
I  was advising Danish pensions for a short period of time on how to best develop sustainable lifecycle products in accordance with the European SFDR regulations. The reason I took this decision is that I have been working in this industry for a very long time. I think Japan represents a great opportunity especially for sustainable ESG investments, because many Japanese listed companies are undervalued from both financial and ESG perspectives. I think there is a great opportunity to unlock the value in such a large market as Japan.
I have visited Japan and have been investing in emerging markets, including Asia, and I think there are many ways you can provide a new benchmark for a new ESG investment approach, which I think is what we are trying to do right now. There are a lot of opportunities in Japan and, for me, it was almost like a natural step from doing this after 23+ years in Europe, so I wanted to try to do it outside the European context.
You've mentioned before how Japan was an opportunity you "simply did not want to miss". What particular aspects of the Japanese market – especially in relation to ESG – appealed to you?
Many of the companies that we are investing in today are really solid companies, with good potential to grow from both a financial perspective and also from ESG perspectives.
The particular aspects are the quality of the market, that Japanese companies are really outstanding from a quality perspective. Many of the companies that we are investing in today are really solid companies, with good potential to grow from both a financial perspective and also from ESG perspectives. So, when looking at the Japanese market, it was clear to me that there's quality in a mid-cap segment where generally is overlooked by investors. That's where the growth will happen and that is exactly what I am looking for. 
Do you see this as a fiduciary duty or a moral duty?
It is actually both. It doesn't have to be "either … or"; it is fiduciary for investors to take it into account, but also it is a moral obligation to invest in the long term, not just for us, but also for other generations as well. It is a combination of things, and I think people sometimes try to see it as one or the other, and it is not; it is actually both.
What strategies did you adopt in propelling the Asian region to a sustainable transition?
First, Asia is a region where more can be done, especially on improving the disclosure of how these companies are managing key environmental, social, and governance issues. Improving their disclosure would enable companies to get better scores and reach investors globally.
The second thing is that, of course, the Asian region is big. If you compare Japan with any other country, it is a vast economy with an extremely well-established global presence. If you ask me in this context how to separate Japan from the rest of the Asian region, I see Japan more as leading from the ESG perspective.
How does SDG Impact Japan help support your ESG goals now? How can they be a partner to the leaders who are trying to make ESG initiatives a focus for the organisation?
SDG Impact Japan is the first Japanese sustainable finance platform, and we believe that we are currently building a next-generation ESG approach. Additionally, there are a number of venture funds that SIJ has partnership with that are specifically investing in companies as part of the solution going forward. So, from this perspective, I think SIJ plays a particular role in not only framing the debate, but also helping Japanese companies to tap into the global capital pool, and I think that is interesting.
What type of ESG risks and gaps are you debating internally that aren't always in the mainstream news and how are you integrating cognitive diversity across the organisation and into the investment process?
One of the things we are very cautious about and have some debate about is the fact that there is a lot of greenwashing in our industry. We want to provide solutions to our clients that are really thorough from an ESG perspective, so we spent a lot of time analysing companies and trying to understand where the opportunities are.
The ESG industry is under attack from greenwashing, especially in Europe, because it has been taken over by the marketing departments. Now the regulators in Europe are trying to sort this by introducing new legislation and regulation. This is one of the areas where we really want to be certain that we are delivering what we say. 
Mr Beslik, you have previously held a number of senior sustainability roles. What is the greatest misconception about sustainability you wish more people were aware of?
Sustainability is a complex word; it takes a lot of work. It is not a check box exercise. You need to spend a lot of time and resources, and it needs a very close engagement with the companies in order to make any difference.
The biggest misconception is that simply adding some elements of climate and social issues into an investment strategy doesn't make it sustainable, and people need to understand that.
You believe that the finance industry is the key to transformation to a sustainable future. The financial industry can move the capital from where it is regarded as not sustainable toward where it is sustainable. The problem is that the finance industry is not truly working in this direction yet. Do you see some evolution or real progression towards this goal in recent years? You have often said that there is a great deal of talking but that we need to "look at the results!".
I am a very results-focused person when I am writing and when I am talking. So far, I believe that the financial industry hasn't been able to show results, and this is the biggest problem for the industry. If you buy an electric car, you know what you are buying, but when you buy sustainable funds, you don't usually understand what it is, because these are processes.
I believe that the financial industry hasn't been able to show results, and this is the biggest problem for the industry.
So the thing is that the industry needs to be much better at showing what we are actually achieving. Just to give a practical example, let's say you have a family in Europe that is buying an electric vehicle, recycling, and doing all of the other things. However, at the same time, their pension money is invested in a completely different direction on a global scheme, so that the effect of what they are trying to do is net zero.
The financial industry needs to disclose where the investors' capital is being deployed. Disclosure has started to improve, but I think financial regulation will increase, because the regulators, both in Japan and in Europe, and even in the US, are understanding that huge capital that is invested in this way has to actually show results. Otherwise, it is just a marketing thing; it is not real.
Indeed, you have also compared the efforts the West is making to tackle the sustainability issue to polishing the floors on the Titanic.
Yes, I did. We need to evolve our current economic model, market economy. ESG is part of that process.
There is a gap between those who work with ESG and those who handle the money. That's the bridge we need to build, and relocating capital is key. Can you develop this idea or provide an example of a strategy to accomplish this goal?
The people who work on ESG are people that should also handle the money. However, this goes back to the education system, the universities that are educating the future financial analysts and economists are still not equipped to actually introduce a proper ESG curriculum.
One of the biggest problems that we have is that there is separate teams: the team that manages ESG, and the people who invest money. The key to finding this bridge is actually to integrate the knowledge on both sides in establishing a way to actually assess companies. In fact, this is happening in some places but, in general, you will always have the big players around the world that have separate teams. As for our approach, analysts, portfolio managers, and researchers work as one team, so that we can achieve a better understanding of what we actually are investing in and this is very important.
The Bosnian War broke out in 1992, when you were 18 years old. During the year that followed, you spent months sleeping in city parks and you were almost executed during your escape from war-torn central Bosnia. These experiences have surely had a real impact on your personal growth. Did they inspire your journey and career?
Yes, it has shaped me a lot as a person, because when you experience this, you understand the importance of life. I feel I have been given a second chance, because I was supposed to be executed, but I wasn't. Now, I want to use my time, the rest of my life on this planet, to do something I truly believe in. So, ESG is not a job for me, it is what I do because I think it is the right thing to do. It has shaped my personality a lot, from the perspective that I like to see results.
I spent years visiting companies around the world on the ground. I was one of the few analysts and investors on the ESG side, visiting countries in Africa, Asia and South America. I visited factories, facilities, car producers, gold mines, copper mines, nickel mines, and oil rigs to see what was really happening around the globe, rather than simply being told a nice story. This has shaped me a lot.
This article was originally published on 5 August 2022
Executive Profile
Sasja Beslik is an international financial expert known for promoting financial sustainability across the world. Prior to joining SDG Impact Japan, he was responsible for sustainable investment strategy for J. Safra Sarasin, and Danish pension fund. He was head of responsible investments and corporate governance in Nordea bank from 2009. He was honored as a Young Global Leader at the World Economic Forum (2011) and served on various boards and global committees.
The views expressed in this article are those of the authors and do not necessarily reflect the views or policies of The World Financial Review.